Cantor Benny Rogosnitzky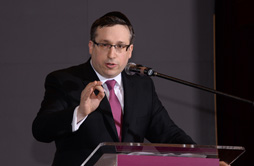 Cantor Benny Rogosnitzky serves as Cantor of the prestigious Park East Synagogue on the Upper East Side of Manhattan. Cantor Benny has lectured widely on Cantorial music and its application to prayer. He has taught and guided many of today's well-known cantors and is involved at the leadership level in many charitable organizations with a unique flair for organization and implementation of community projects.
Cantor Benny Rogosnitzky was born in Liverpool, England, but spent his early schooling in the Netherlands and Johannesburg. At the age of nine, his liturgical talents were discovered by world-renowned cantor Johnny Gluck, and he subsequently joined his choir as a child soloist. At age sixteen, he returned to England where he was invited to lead High Holiday Services at prestigious Brighton and Hove Synagogue. At the same time, he furthered his Jewish Studies in the Manchester Yeshiva. Cantor Rogosnitzky pursued his higher education at the Royal Manchester School of Music and Art.
He has since lectured widely on music and its application to prayer and served as a guest lecturer at the Yale Conservatory of Music in the USA. Affectionately known as "Cantor Benny," he also gives classes and maintains a rigorous regime of study and practice of traditional and modern liturgy and music. He has produced several concerts, performing worldwide in New York, London, Tel Aviv, South Africa and Warsaw. Cantor Rogosnitzky's interests and talents are not limited to the sphere of music.
Cantor Benny Rogosnitzky has worked closely with late international financier, Edmund Safra, and has been instrumental in the organization of many of successful charitable functions. He is also actively involved in Jewish outreach, both in the USA and Israel. He is passionately committed to making a meaningful difference in people's lives. In 1996 he was appointed as cantor of the prestigious Jewish Center on the Upper West Side, where he served for 13 years.
Community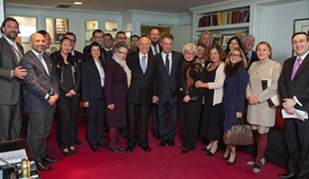 Cantor Benny Rogosnitzky is involved in many facets of community life, coordinating special events, outreach projects, Friday night dinners, the annual Dinners, as well as many marketing platforms for the institution. His firsthand knowledge of the wider Jewish community and his excellent marketing abilities allow him to produce events of the highest caliber, that are both inspirational and cutting edge.
He has produced and coordinated events in locations ranging from the Waldorf Astoria, the Hilton, Barclays Center, the Metropolitan Opera House, and Lincoln Center to name a few. He has produced functions at which both heads of governments and heads of states have appeared. His manner is deliberate, and he has a keen eye for detail, ensuring that every aspect of the planning and implementation is attended to.
Family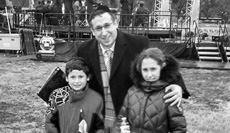 Cantor Benny Rogosnitzky and his wife are parents to four children. He is intimately involved in all aspects of their lives. His children are his world. Often, he will share anecdotes and vignettes of their lives, as an opportunity for others to gain insight into parenting questions and dilemmas. He is a son of a well-known Rabbi. His paternal grandfather was the Chief Rabbi of Cardiff Wales, and was a well-known Rabbinic authority. For as many generations as the family can trace, on both his mother's and father's sides, there were leaders in the Jewish community, serving both as communal Rabbis, Dayanim in the community, and great Rabbinic luminaries.