Cantors World project Reviving traditional chazzonus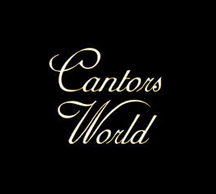 Cantors World was founded by Cantor Benny Rogosnitzky and Charlie Bernhaut in January, 2003 with the goal of helping to revive interest in traditional chazzonus through quality and creative programs. Their concerts have drawn sold-out crowds with a varied audience, from the most religious or Chassidic background to the unaffiliated and extremely secular. It is this unique aspect of our religion – traditional chazzonus – that attracts Jews from across the religious spectrum to gather together for a mutual, Jewish, spiritual and cultural experience.
A key goal of Cantors World is to continue to promote the role of the cantor in bringing inspiration, dignity and beauty to the prayer service.
Programming consists of several annual concerts and unique presentations such as 'An Evening of Preparation' for the High Holy Days, a cantorial 'Talent Search', and special 'Shabbat Chazzanut' weekends. The weekly radio programming presents a full hour of non-commercial chazzonus every Thursday night at midnight over WSNR, 620 on the AM dial. The website has been a key factor in bringing together cantorial afficionados and is projected to again be fully operative in the near future. This past year was one of continued presentations of outstanding chazzonus.
In December 2006, Cantors World was pleased to present the historic cantorial concert at the Metropolitan Opera House, featuring Cantor Yitzchok Helfgot, the New York Philharmonic Orchestra, its chorus, all directed by Maestro Mordechai Sobel. It was the first time that a single cantor presented the entire program before a sold-out and enthusiastic crowd at the Met. In February the Shabbat Chazzanut in Princeton, New Jersey once again offered a weekend of immersion in inspirational davening.
It featured Cantors Yaakov Stark, Pinchas Cohen, Moshe Shulhoff and Israel Rand. In April the Fourth Annual Mincha Maariv Sefira davening was held, featuring Cantors Yitzchok Helfgot, Yaakov Motzen and Moshe Shulhoff. The event was presented at the totally renovated and beautiful Chasam Sopher Shul in the Lower East Side. In August Cantors World presented another unique davening – Yom Kippur Koton Mincha and Maariv – with Cantors Pinchas Cohen, Yaakov Rosenfeld and Benzion Miller. Benny Rogosnitzky and Charlie are grateful for the support and enthusiasm that their efforts have generated. They look forward to building on the foundation that has been laid by creating an awareness of the role and importance of the cantor. You are encouraged to join with Cantor World's mission of reviving traditional chazzonus.