Museum of Eternal Faith and Resilience Board Member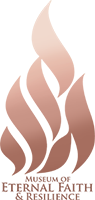 In 1965, the Kiddush Hashem Archive was created in Israel to document the fate of victims, survivors and rescuers during one of the darkest periods of history. Since that time, close to 300,000 photographs and documents have been archived, in addition to thousands of video testimonies. All of this material is available to Holocaust survivors as well as researchers, writers, journalists, teachers, students and the general public.
The current space is no longer large enough to house this treasured collection and plans are underway to construct a new museum. A plot of land has been allocated in Tel Aviv for this purpose and in December 2018 a special ceremony was held with President Rivlin to announce the cornerstone laying for the new building.
This new space, called the Museum of Eternal Faith and Resilience, will keep the memory of the Holocaust alive while continuing to tell the story of the fortitude of the Jewish people and the miracle of their eternal spirit and fortitude.
Cantor Benny Rogosnitzky serves on the Board of Advisors
Read more about the Museum of Eternal Faith and Resilience at - www.mefr.org