High Holiday Nusach CD's Authentic nusach learning tool for chazanim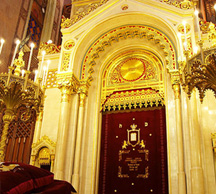 "It is with a sense of trepidation and excitement that I present to you this recording. allow me to share with you a little of the background and sources used in putting this together.
Over the years I have heard many great chazzonim and equally outstanding ba'allei tefila. I have always believed that the ultimate synthesis should be that of chazzonus and ba'allei tefila.
I am not presenting this CD as an authority on Nusach but rather as a Talmid of so very many ba'allei tefila. I have put together what I believe are some unique ideas in the presentation of the Nusach. however, of all the great chazzonim I have heard, none have had a greater impact than the one and only master of Nusach Hatefila, Chazzan Noach Schaul. the vast majority of the nusach presented here is derived from ideas I learned with this great teacher.
While I have spent much effort on perfecting the sound of this CD, I was more concerned with the authenticity of the Nusach and the attempt to share some new ideas that will help you, the chazzan and Ba'al tefila in your community.
I hope that in some way, this CD will be a source of enhancement in your Tefila and I would always be happy to hear from you with questions or comments. Ultimately, I would leave you with a thought I heard the great chazzan Yossele Rosenblatt used to say "before you go to the amud make sure you understand what you are saying." Nusach is only the spice that adds color to the delicacy; at its core we must know what we are saying.
Finally, remember that nothing can be more powerful than Tefila B'regesh. When you put your heart and feeling into the Tefilos it will be sensed by the Kehila and will inspire not only the listener, but the ba'all tefila himself."
"May all our tefilos be heard and answered."
Cantor Benny Rogosnitzky
Read more about High Holiday Nusach at - www.HighHolidayNusach.com
Buy the CD's
Learn more about Cantor Benny's music on the Music page